Many are wondering what has caused the demise of the seemingly inevitable success the Cleveland Browns would have entering 2019. Is it due to their head coach, who's favorite part of the house is given away by his last name, or maybe even their GM that rocks a groutfit like no other? To those proposals, I say neigh. One must look deeper to see the true reason, and therein you will find the answer: Baker Mayfield.
I know what you're thinking, and no, it's not where I'm going with this. I don't think he's a bad quarterback, far from it, in fact. He's made a few mistakes, sure, and has thrown so many interceptions that I'd need at least two hands (due to my public school education) to count his total, but that is just an outcome of the deeper problem. So, what's the issue? His face.
I know, I know, I have no room to talk after being continuously compared to Ruby Rose, but where I have been berated for my inability to grow facial hair, I feel Mayfield's issue is the exact opposite. This is where the duality of man comes into play. Below, you will see the face of a confident rookie, one that set records and brought a team to the promise land: a 7-8-1 record. Everything was on the up and up. Cleveland fans were full of joy, finding the new face of their city after LeBron decided to take his talents to Los Angeles, but this would soon come to an end. With the good comes the bad, and that's where we are at today.
The man you see above is no more, he disappeared a while ago. Where has he gone? If I knew, I'd tell you. There is one thing I do know, though. Just looking at the two images, what is the major difference, aside from the scowl he dons and the pea coat he borrowed from Joe Pesci? His facial hair.
Like Samson, with one fell swoop of a razor, his powers were gone. No longer was Baker seen as the savior of Cleveland, but instead, a lost soul that could no longer throw a football. Even then, though, it's not like Baker has never rocked a bald face before.
Look at his time as a Sooner; sure, he had some stubble, but definitely not a full beard.
Despite this, he topped 40 touchdowns and over 4,600 yards, so the issue must not be the presence of facial hair or not. The true answer: indecisiveness.
Baker has shaved his beard more times in the past week than I have in two months, and that speaks volumes. You want the face of your franchise to be pot committed, but all we have seen is a man who is one foot in, one foot out, which is concerning when your job is being a professional quarterback and not a Hokey Pokey instructor. If only he could settle with one look and stick with it. Wait, there it is. The solution to the issue. If he wants to be put on the Mount Rushmore of starting NFL quarterbacks, he can't keep changing his appearance. If he did, the men carving his face into the side of the mountain would never get the job done. So, my proposal? He shaves it all off.
Like Samson and Jonny Damon, one must accept the clean-shaven lifestyle to fully regain the strength that was once possessed. How can he go about this? Well, first, I'd suggest Baker heads over to manscaped.com and checks out the Perfect Package 2.0, a bundle deal that contains all his grooming needs. He can do away with his old, beat up lawnmower, for a brand new device that is guaranteed to never break down.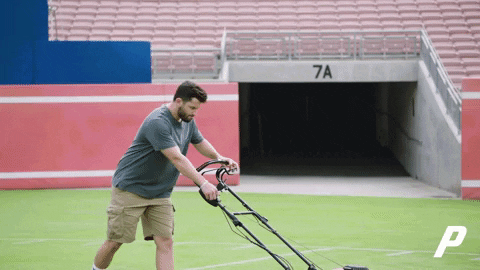 Along with the Lawnmower 2.0 comes ball toner and deodorant. He can put so much tack on his balls that OBJ will never drop a pass again. It has everything he needs to become the player, and man, we were all promised just one year ago. To further sweeten the deal, I can even throw in a discount code for 20% off his order and free shipping. This isn't just limited to Mayfield, though, so if you're interested, enter code BIGDOG at checkout to walk away with this bundle at a fraction of the price. All I really want is to see him happy, and this offer can do just that.
So, is that really the solution to the Browns' problems? Yes, it really is. I see no other reason for the demise of the franchise. Baker needs to be fully committed to his own face before he can be the face of an entire franchise, and with the Lawnmower 2.0, he can do just that.