Super Bowl LI, the Miracle on Ice, my 2019 picks; all stories of great comebacks, overcoming insurmountable odds. Through three weeks, I am in my element. My brain is as sharp as ever, and these picks are hotter than Andy Dalton's hair in Arizona, so if there was ever a time to tail me, it's right now. Sadly, I see the light at the end of the tunnel, but for now, the magic is still here and my dreams are alive, so let's take a look at the first step to setting up your kid's college fund.
Last Week: 9-7-0
Current Record: 28-20-0
Superlock Picks: 2-3
Philadelphia Eagles @ Green Bay Packers (-4.5)
Pick: Packers (-4.5)
The Packers are undefeated and the Eagles are basically dead. Their entire roster is depleted of any sort of weapons, and with their secondary watching this game from hospital beds, Davante Adams and Aaron Rodgers may finally close the casket. Thus far, they've only beaten the Redskins, but were getting blown out at halftime, and dropped a game to Atlanta coming off an ass whooping from Minnesota and lost last week to the undefeated Lions. On a short week, traveling to GB while the Packers are at home for the second week in a row, I don't see how this game is close, especially with how much improved the Cheesehead defense has looked. Wentz is a fraud and that will be on full display this Thursday night. I will say, I usually pick against my gut on Thursdays, but I can't on this one. My brain is doing jumping jacks in my head trying to decide if fading my fade is a good decision or not, but I guess we'll see if this process works out in a day or two.
Tennessee Titans @ Atlanta Falcons (-3.5)
Pick: Titans (+3.5)
This is such an easy pick. Too easy, maybe. After getting pounded in week one by Dalvin Cook & Co., the Falcons have looked slightly better offensively and Julio seems to finally understand that the last 10 yards of the field are the most valuable. On the other side of things, the Titans looked awful against the Jaguars on Thursday night, a game which everyone (begrudgingly) watched. With their shitstorm of a team being put on full display, the public will most certainly run with the wolves and fly with the birds this week, and because of that, I'm siding with Tennessee. This spread is too peculiar for me to go with what looks to be the obvious pick in Atlanta, even though they're at home and the opposing QB hasn't been leid since the last time he was in Hawaii. Hopefully their defensive line can cause pressure, as they did against Baker in week one, and force Matty Ice into a handful of turnovers, which has become tradition for him recently. I wouldn't be surprised if this game ended 14-13, and because of that, the Titans are my selection.
New England Patriots (-6.5) @ Buffalo Bills
Pick: Bills (+6.5)
I can't believe we get to see the undefeated AFC East juggernaut and the Patriots face off this week. We're so lucky. The Pats have played two corpses thus far in Miami and the Jets, and steamrolled the Steelers while the Bills have turned in solid performances against similarly shitty teams. Both squads have elite defenses, and with Buffalo at home, this game could have a very low total. Because of that, I don't think a 6.5 spread is warranted here. Last year in New England the Bills lost by a 12 spot, but that's when Josh Allen's best receiver was Stephon Gilmore. Now, with an actual arsenal of talent surrounding him and one of the league's best defenses on the other side of the ball, I think they can keep this somewhat close. The Bills have also only played in two cities thus far and are at home in back-to-back weeks, further helping me justify this pick that will inevitably lose when Gostkowski kicks a field goal up by four with two seconds left.
Kansas City Chiefs (-6.5) @ Detroit Lions
Pick: Lions (+6.5)
I keep betting against the Chiefs and siding with the Lions, and it worked very well last week. Because of this, you'd think I'd flip flop and go with the favorite here. Wrong. The Lions quietly have one of the league's better defenses and an offense that has shown they can move the ball fairly effectively. Of course, the Chiefs' offense shouldn't be mentioned in the same sentence as Matt Patricia's Lions, which is why I put a period before I typed out this thought. There is certainly blowout potential in this game as Mahomes could tear apart any defense and Stafford is unlikely to keep up, but there's just something about this Lions team that keeps me coming back for more. I'll roll with the home dogs in this one, but with very little confidence.
Oakland Raiders @ Indianapolis Colts (-6.5)
Pick: Colts (-6.5)
I hate the Raiders. I've been a believer since week one, evident by my affinity to select them every week even after I write about how dumb it is to do so, and now, I'm done. Even if they were playing Miami and the Dolphins were favorites I'd roll with the fins at this point, so the fact that they're on the road against a formidable opponent makes this extremely easy. I'm actually not convinced the Colts are as good as their record indicates, but the Raiders are worse than what theirs is on paper, so, in the wise words of Linkin Park, it doesn't even matter. 
Los Angeles Chargers (-16.5) @ Miami Dolphins
Pick: Chargers (-16.5)
If there was ever a time the Chargers needed to play Miami, it was this week. They've successfully blows two games and almost dropped another to the Colts in week one, and with their defense losing pieces quicker than a child playing chess in Union Square, if they were to face any competent offense they'd likely lose once more. They get to face Josh Rosen in this one, which is eerily similar to the time the Bills decided to trot out Nathan Peterman a few years back, and, well, that ended poorly for Buffalo. The Chargers' runningbacks also have Melvin Gordon's return looming over them, so they might actually try to run the Dolphins out of their own stadium in attempt to prove to Anthony Lynn that MGIII is just a product of his environment. The only hope is that Miami channels their inner Young Dolph(ins) and LA misses 100 (deep) shots instead of settling for easy conversions. The Chargers should win this by a hundred points, and as we all know, Phil Rivers isn't afraid to drop a load, so I expect this to be a get right game where they blow the Dolphins out of the water, literally and figuratively.
Washington Redskins @ New York Giants (-2.5)
Pick: Redskins (+2.5)
This is my "this is a shit pick that makes no sense but will somehow win" pick of the week. Daniel Jones looked like a tenured vet last week, leading the G Men back from a huge deficit against a relatively strong defense in Tampa, so now, against the Redskins who made Mitchell Trubisky look like '07 Tom Brady, he should turn in another good game. On top of that, the Redskins are on the road coming off a short week. Basically, everything is working in New York's favor to win this game, and win it big. Because of that, and with the spread being just 2.5, I'm going with Washington. Literally everything I said makes this pick terrible, but that's why I love it. I may make this my superlock. There's no risk in doing so since my superlock record is as bad as the Redskins' medical staff, but I'm saving my lock of the century for a later game. As for this NFC East bout, I'll stick with my most ignorant pick of all time.
Cleveland Browns @ Baltimore Ravens (-6.5)
Pick: Browns (+6.5)
Okay, I may have lied. This may be the most ignorant pick yet. The Browns are a legitimate dumpster fire while the Ravens are proving everyone wrong, hanging crooked numbers week after week and almost managing to keep up with the Chiefs. My analysis is as unfounded as the last game, as I'm siding with the Browns for the sole reason that I think this line is surprisingly low. Maybe the Browns finally no longer have that target on their back since they're already dead, and with Baker now the underdog, he may finally wake up feeling dangerous. He's also 1-0 against Sophomore QBs, though Sam Darnold wasn't active for the Jets, so they didn't square off mono e mono. That looks like it'll be the only streak the Browns will have a chance of keeping alive this year. I can see Myles Garrett creating major pressure in this spot, so we may see Lamar Jackson facing his toughest task yet. The combination of Lamar being uncomfortable and Baker being an underdog may be just what I need for this game to turn out the way I hope.
Carolina Panthers @ Houston Texans (-4.5)
Pick: Panthers (+4.5)
If Keenan Allen wasn't a thing, Kyle Allen would certainly be the best KA in the league. With that being said, this seems like another trap game where a fairly stout home team has to cover such a small number. Hey pal, no thanks! I'm actually of the belief that the Panthers are a very good team (sue me), and through three weeks, it seems like the Texans play to their competition. Their largest, and only, margin of victory was seven points against the Chargers last week in a game where LA blew a fairly big lead, so with a backup QB at the helm, I'm not sure Houston will see Carolina as a real threat heading into the game. The Panthers have one of the league's best defenses, allowing the fourth least points per game despite facing teams that are supposed to be offensive powerhouses in the Rams, Bucs, and Cardinals, and are third in sacks with 12 (4/game). With the Texans' offensive line still looking like swiss cheese despite adding LT Laremy Tunsil, who, to his credit, gets penalized for facemasks off the field more than on it.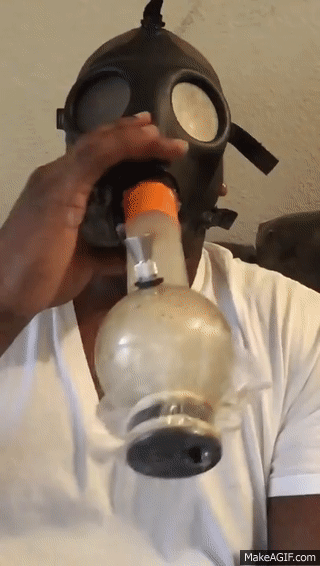 This would be my superlock pick of the week if the next game wasn't on the slate, so all I'll say is I'm very confident in this one.
Tampa Bay Buccaneers @ Los Angeles Rams (-10.5)
Pick: Buccaneers (+10.5)
One word: super lock. Are the Rams even good anymore? Yes they're 3-0 but they most be the most fraudulent 3-0 I've ever seen. The offense that was making Andy Reid bow down last year suddenly seems to have spent too much time watching Mike McCoy tape. They blew out the Saints in a game where Brees was knocked out early after he and Aaron Donald high fived, and last week, abused a baker who forgot yeast, not allowing him to rise to the occasion. On the other side, the Bucs blew an 18 point lead to Coach K's unclaimed son in his NFL debut, so it would seem as though this spread is fair.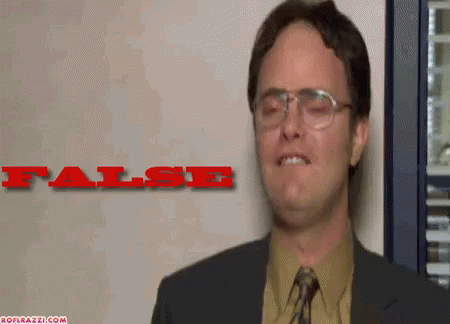 Let's not let last week influence this pick too heavily. The week prior, on a short week, on the road, their defense stonewalled Christian McCaffrey and Jameis didn't look like a complete scumbag. If it wasn't for horrible turnovers in week one and a blown lead last week, the Bucs could have been looking at a 3-0 start. Jared Goff looks miserable, almost as bad as Jameis, and Todd Gurley's knees certainly won't help overcoming one of the league's best run stuffing units. I'd hammer the under of 50.5 as well because I don't see either team's offense overcoming the opposing defense, which makes it easy for me to take the Bucs with this large of a spread.
Seattle Seahawks (-4.5) @ Arizona Cardinals
Pick: Cardinals (+4.5)
I pick the Cardinals week after week, but I finally feel good about it. Kyler was tasked with a very formidable Panthers defense last week but looked much more comfortable, and one of his interceptions wasn't really his fault - I mean how is it possible that someone can jump this high?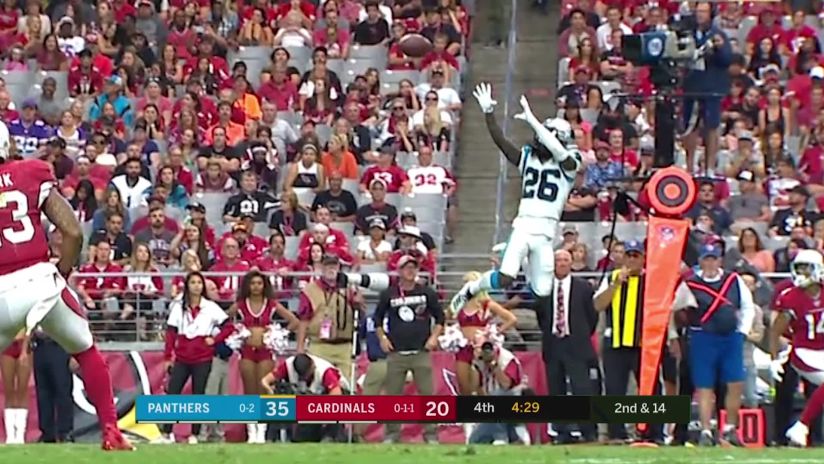 I'm not too worried about Seattle's defense getting after Kyler, as they rank middle of the pack in adjusted sack rate, but even if they do, we saw him finally use his legs last week and he's, uh, very fast. He's going to be looking into a mirror this game, observing what his future holds by seeing Russell Wilson in person. The pressure's on, and at home, I think he's ready to handle the task. I am a bit worried about the Seattle offense, though, as they seem to just score at will when necessary, and Arizona's defense is awful. My biggest concern is that the Seahawks get out to an early lead and Arizona's red zone woes continue, but I'm an optimist, especially if it means it helps me justify my picks, so I'll take the home dogs.
Minnesota Vikings @ Chicago Bears (-2.5)
Pick: Vikings (+2.5)
The Bears are terrible, but because they blew the doors off the Redskins on a primetime game, they're the favorites in this one. Sure, they're also playing at Solider Field, which gives them an advantage, but I don't see how they find a way to outscore Minnesota when it's all said and done. My only worry is that the Vikings want to run 95% of the time and the Bears' defensive front is dominant, which may cause Kirk to throw and knock the Vikings off their original offensive gameplan. This issue isn't even of much concern, though, because even Kirk Cousins getting rushed by Khalil Mack is better than Mitchell Trubisky. There are very few teams who the Bears could play that I'd feel comfortable laying the points, and Minnesota isn't one of them. 
Jacksonville Jaguars @ Denver Broncos (-3.5)
Pick: Jaguars (+3.5)
The Jags are coming off a great showing on Thursday night where Gardner Minshew made the Titans' defense look like an amateur flag football squad. Now, coming off a long week, they are underdogs against a team that has yet to sack a QB other than Joe Flacco. If their trend of failing to get pressure continues, I don't think this one will be close. Jacksonville's offense isn't awful, and their defense remains one of the best in the NFL, so it'll be a tough task for Denver to edge out the opposition. I don't have many things to say about this game, so I'll keep it brief: give me the Shaguars.
Dallas Cowboys (-2.5) @ New Orleans Saints
Pick: Cowboys (-2.5)
This line is very disrespectful. Sure, the Saints had no issue scoring again the Seahawks, but they aren't the Legion of Boom of old. They were up 27-7 heading into the fourth, but gave up a 20 spot in the final quarter, showing that their defense can be exposed. With the Cowboys finally looking like their offense can call real plays, they should be able to keep up with the Saints, not that they may need to. Dallas' defense has given up > 17 points just once this year, though their opponents have been sub par at best, but it's not going to be any sort of cakewalk for Teddy B. I'm of the impression that Dallas is one of the three best teams in the NFL, and I don't think they end their streak here and win this game outright.
Cincinnati Bengals @ Pittsburgh Steelers (-4.5)
Pick: Steelers (-4.5)
I do not like Mason Rudolph, but I love this pick. At home on a long week against a division rival that hasn't showed any semblance of defensive fortitude, Rudolph may actually be primed to put up a big game here, while Andy Dalton is more of a JAG than a Bengal. Both squads are 0-3, but I feel more comfortable siding with the team that actually has a strong defense playing at home against a coach who I couldn't pick out of a lineup if my life was on the line.