I'm not going to lie to you, my picks have been terrible these past few weeks. After starting off on a complete tear, the hot hand cooled down like Jordan Howard in Chi Town, but I love the board this week, so much so that I have three SuperLocks. Crazy, I know, but that's just how swell I'm feeling. Without further ado, let's finance some college tuitions.
Last Week: 5-8-0
Current Record: 80-68-0
SuperLock Record: 10-6-0
Pittsburgh Steelers @ Cleveland Browns (-2.5)
Pick: Steelers (+2.5)
What a ridiculous way to start the week. How are the Browns favorites in this spot? Sure Mason Rudolph isn't a world beater, but the Browns aren't quite the world and are headed by a quarterback that thinks the hair surrounding his mouth dictates his performance. Pittsburgh just made a former #1 overall pick look like a third-stringer from Last Chance U, so on a short week with little time to prepare, I'm sure Mayfield may have similar struggles. Whatever the under is, I'd hammer it because there is no chance either team threatens 20 points. I see no scenario where the Browns pull this one out like another failed Antonio Cromartie canoodling, but even if they do, I can't see them taking it by a field goal or more.
Dallas Cowboys (-3.5) @ Detroit Lions
Pick: Cowboys (-3.5)
As I'm writing this, it looks like Matt Stafford will be active, but at this point, I don't care. The Lions' defense let Mitch Trubisky drop 20 on them, and even though the Cowboys are incompetent, they have the ability to hang a crooked number on anybody. Detroit stinks against the pass, but are even worse defending the run, so Dak should be in his element executing play action passes all day long while Matt Stafford will break his back once again trying to carry the team on his shoulders. Cowboys by a million.
Jacksonville Jaguars @ Indianapolis Colts (-2.5)
Pick: Colts (-2.5)
The real is back, the ville is back, Foles bananas here, peel this back. Sorry for that. Both quarterbacks are returning from injury this week, so I'm not sure exactly what to expect offensively. Obviously, Jacoby has played more recently than Foles, but he's also lost a ton of weapons throughout the year and is left with a bunch of undrafted players and a few more that have more drops than receptions. In the end, though, I'll take the home team as the spread isn't too big for me to be concerned and the Colts need to bounce back after Fitzmagic made Indy's offense do a disappearing act last week. I really have no confidence or conviction in this game, so I'm rolling with what looks to be the better team.
Buffalo Bills (-5.5) @ Miami Dolphins
Pick: Bills (-5.5)
*The world looking at Ryan Fitzpatrick*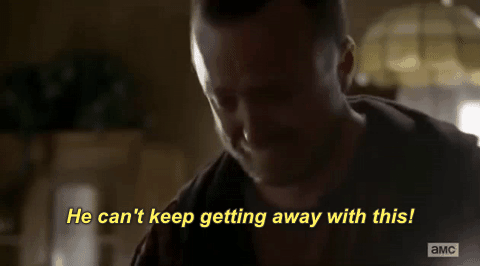 Why in the world are they winning games? We all expected them to go 0-16 and put up zero fight throughout the year, but for some reason, the Dolphins want to prove a point that they don't deserve to get the pick of the litter come April. Whatever. Despite their recent success, I think they tear it down here. If they beat, or keep this game close with, the Bills, it will only further hurt their chances at getting a top five pick since they still face the Jets, Giants, and Bengals this season. If they crumble now, nobody will care and Brian Flores' job will still be safe. The Bills get to escape the cold weather and get an easy dub against a team they have already bested by double digits this season. This is the perfect spot for them to start streaking positively while it's also the ideal week for Miami to fall apart like Post Malone. I feel like this game will finish close to the number, but I'll sweat it out and roll with the Bills.

Denver Broncos @ Minnesota Vikings (-10.5)
Pick: Broncos (+10.5)
The Vikings are frauds. There, I said it. Their whole offense is built around Dalvin Cook, certainly not a terrible centerpiece, but Denver has an incredible run defense and their pass rush has improved throughout the year. If they are able to slow down Cook and make Cousins beat them, this game will not get out of hand. A double digit spread is way too big for a quarterback of Kirk's level going up against a formidable defense. Yes, you can say that Brandon Allen won't keep this close, and I don't disagree, but I think the Broncos will only need to score 10 points to secure this pick.
New Orleans Saints (-5.5) @ Tampa Bay Buccaneers
Pick: Saints (-5.5)
This is my SuperLock pick and I love it. My SuperLock pick last week was the Cardinals, who were also on the other side of the Bucs, and I'm sticking with that theme. The main reason why I love this pick is because of how slow the Saints looked coming off their bye. Not only did their offense struggle, their defense, which has been well above average all season, put zero pressure on Matty Ice. This is a prime bounceback spot against not only a defense that has no answers for Drew Brees, but also facing a QB that will result in New Orleans having fantastic field position. The total may be high by game's end, but I see no scenario where Tampa is within a touchdown when the clock strikes zero. The Saints are just too good on both sides of the ball, despite being exposed last week, to be favored by less than a tug against TB.
New York Jets @ Washington Redskins (-0.5)
Pick: Jets (+0.5)
The Jets lead the league in games I don't give a fuck about. Last week (I heard) they beat the Giants in a battle for New York, and now, they are engaging in a battle for the 3rd (or so) pick. The only analysis I will give is that the Jets have been very good against the run and Bill Callahan has not only come out and said that he wants to run all game, but has actually done so. The Skins won't take advantage of the Jets' biggest weakness, which makes me feel a little more confident in this pick. To be quite frank, though, I'm doing the same thing as last week and just taking the underdog because I don't trust either of these teams as favorites this season. Congrats Jets, you win again by default.
Atlanta Falcons @ Carolina Panthers (-5.5)
Pick: Panthers (-5.5)
While I am high on the Saints this week to bounce back, this is a come-back-to-earth game for the Falcons. They just lost Devonta Freeman, who although sucks, was their lead back, and against the Panthers, the best way to win/keep it close is on the ground. Their pass defense is very good and they get to the quarterback, so with Austin Hooper out, Matty Ice may not have any reliable checkdown options this Sunday. As for Carolina's offense, you can always pencil them in for 14+ points because of CMC alone, and with how stellar Curtis Samuel and D.J. Moore have looked, combined with the incompetent Falcons' secondary, they should have no issue running the score up. Atlanta is about to let the entire world (mostly just Georgia natives and Nick) down this week and Carolina is going to bounceback from a tough loss in the snow. I would make this my second SuperLock but I'm not that confident in myself.
Houston Texans @ Baltimore Ravens (-4.5)
Pick: Texans (+4.5)
Watching these two quarterbacks duke it out is going to be electric. Lamar Jackson is firmly in the MVP conversation and has looked unstoppable, but if there's one thing the Texans can do, it's stop the run. Sure, they haven't faced someone like Lamar yet this year, but coming off a bye, they've had extended time to prepare against him. I will admit, this probably won't do much of anything, but at least it's a good talking point. Another thing to note is the Bengals admitted they used Andy Dalton to simulate Lamar in practice to help their defense prepare. If you didn't know, Dalton is the perfect antithesis of what Lamar is, whereas Deshaun Watson is fairly comparable. Again, not saying they will have all the answers for him, but at least their defense takes reps against a similar QB weekly in practice. I almost don't want to bet on this game because I just want to enjoy it instead of sweating it out, but if I had to, I'd lean with the underdog since I think it will come down to a field goal in the end.
Arizona Cardinals @ San Francisco 49ers (-11.5)
Pick: Cardinals (+11.5)
Remember when I said I wasn't confident enough to make a second SuperLock pick? Lies. I love the Cardinals in this spot. They played eachother a few weeks back, a game where the Cardinals kept it within three, and although they were at home, it was on a short week. Now, they have a full week to prepare and are blessed by a bye week in week 12, so they'll be able to throw everything they have at San Fran without risking next game. Along with this, the 49ers may be without Emmanuel Sanders and Kittle, and we saw just how inconsistent this offense looked when they had to rely on the likes of Kendrick Bourne and Dante Pettis over the middle. Breida may be out as well, and outside of his four touchdown performance, Tevin Coleman has been extremely inefficient. 11.5 is just way too big of a number for San Francisco who is now heading into a short (shoutout Kyler) week after getting their heart ripped out by Ciara's lover and Myers' leg.
Cincinnati Bengals @ Oakland Raiders (-10.5)
Pick: Bengals (+10.5)
I want no part of this game. I have no idea why I'm siding with the Bengals, which is why I'm picking them. Logically, the Raiders should kill in this spot, which is why Cincy is the play. Oakland's pass defense is extremely soft, but Ryan Finley is in at QB so it isn't a guarantee that they take advantage, and the Bengals' run defense is atrocious so you'd expect Josh Jacobs, who has been phenomenal, to exploit them. Yes, all of this adds up, but sometimes math is wrong. Maybe that's why my bank account is in the red, yet another sign to roll with the baby faced ginger.
New England Patriots (-3.5) @ Philadelphia Eagles
Pick: Patriots (-3.5)
Uncle. Bill. Is. Looking. For. Blood. In the revenge game for the ages, I see no scenario where the Eagles finish this game within 30 points of the Patriots. Fuck it, we're rolling with three SuperLock's this week. The Patriots coming off a bye likely have all the answers for Philly, and with Jason Peters returning from a multi-week absence and Brandon Brooks recently getting the bag, 40% of their offensive line will be coming off the couch. New England's pass rush will do some unspeakable things this Sunday. As for their offense, Tom will easily dot up the sorry excuse of a secondary the Eagles' boast. This may be the easiest pick of all time.
Chicago Bears @ Los Angeles Rams (-6.5)
Pick: Bears (+6.5)
This being a primetime game brings me such sadness. For how many bad games there are this week, it speaks volumes to say this may be the worst QB tandem to face off. A pair of top two draft picks that throw to the other team and stands more often than their own weapons going up against strong defenses makes for a disastrous game. Jared Goff is coming off a terrible game and Mitch is coming off one of his best games of all time, so you'd think I'd be all over the Rams, but no. The Bears defense will give Goff fits all game long and I have zero confidence that, even at home, they win by more than a TD. All I know is I'll be going to bed early on Sunday.
Kansas City Chiefs (-3.5) vs Los Angeles Chargers (Mexico Game)
Pick: Chargers (+3.5)
It's that time of the week for me to mush the Chargers again. They'll be in Mexico for this one, but they've proved that no matter what country they play in, they aren't afraid to lose. There is zero chance they win or keep this close, but I'm remaining hopeful. If you're smart, you'd side with the Chiefs. Trust me. If there was one pick for you to not tail, it's this one. Let me take the bullet for you, I insist.